Cottage Highlights
Large cottage sleep, 18 people
Directly on the lake with your own private beach
Modern, clean and fresh furnishings and facilities
High speed internet
Facilities
Kitchen
Includes stove, refrigerator, dishwasher, microwave, coffee machine, blender, toaster, kettle, dishware for 18 people, saucepans, stove ware, and an extra bar fridge in the large bedroom suite for extra drinks, etc. Minimal washing supplies provided.
Living Room
2 three-seater sofas and 1 two-seater sofa, plus a TV with DVD player.
Dining Room
Large dining table with seating for 12 people. Additional table in large bedroom suite to seat 4 people. Outside tables and chairs to seat 18 people.
Laundry
Washer, dryer and laundry tub. Vacuum cleaner, mop and bucket, broom and dustpan (please bring your own laundry detergent).
Bathrooms
One bathroom with tub/shower, all 3 other bathrooms have shower stalls, one 2 piece bathroom with sink and toilet. Floor mats, non-slip tub mats and shower curtains provided. Please bring your own towels. Minimal toilet rolls provided.
Bedrooms
Comforters and pillows are provided on all the beds. Please bring your own sheets and pillowcases.
Exterior
Large balcony deck area overlooking the lake with seating for 18 people
Screened-in porch area included in part of the balcony deck
Large open grass area with volleyball net and plenty of space for playing games
Private beach
104ft long dock from the beach to an 8'x8′ swimming platform with step access into the lake
Fire pit (please bring your own firewood)
Outside tap for washing sandy feet and items from the beach
BBQ with 2 propane tanks provided, one in use and one full as a replacement when needed
One rowing boat to seat 4 people, plus oars
One canoe, plus 3 paddles
Two single-person kayaks with paddles
One pedal boat
Life jackets for 4 adult size people in the cottage. Please bring your own if you require specific sizes for children or additional people.
Floorplans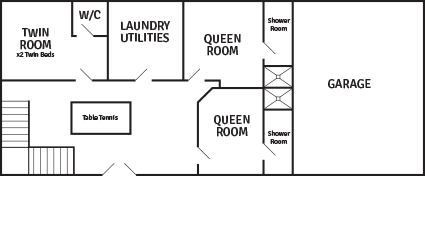 GROUND FLOOR
Entrance Area with table tennis
Twin bedroom with en-suite toilet and sink
Laundry/furnace room
Two Queen bedrooms with en-suite shower rooms in each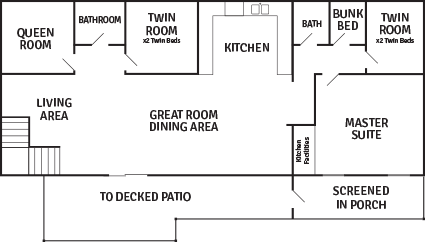 TOP FLOOR
Great Room with kitchen, dining, and living areas
Queen bedroom
Bathroom with tub/shower
Bathroom with shower
Bunk bedroom
2x twin bedrooms
Master suite with additional kitchen, dining, and TV